It seems another grown-up, Tulsi Gabbard  has entered the pre-school play room. She appears to have her feet planted firmly on terra firma, and her head screwed on snugly. Therefore, she will be treated as all parental interlopers and be shunned for fear that she will wake them from their dream world of free everything from cradle to grave. Her first comment on her treatment at the hands of her "fellow" democrats was a couple of weeks ago, when she commented that her treatment at the hands of her own party, was oozing with vitriol she thought would be reserved for Republican targets. She was heard to say that they treated her with more hostility and disrespect than her Republican opponents.   KLIKDAPIK below for more.  It seems the mob can't tell the difference between a debate and an episode of COPS!. All that was missing was the shirtless fistfight, torn "wife beaters" cheap aluminum and plastic lawn furniture, beer getting sloshed on wife and kids in your front yard.  Your neighbor, who is also shirtless and to your dismay,  Jimmie Bob from the trailer next door still has the far end of your aluminum yard lounger and  your lawn mower is still in his garage.  Much to your hillbilly shame,  Jimmie has larger boobs than your ol' lady…….but smaller than  your own!.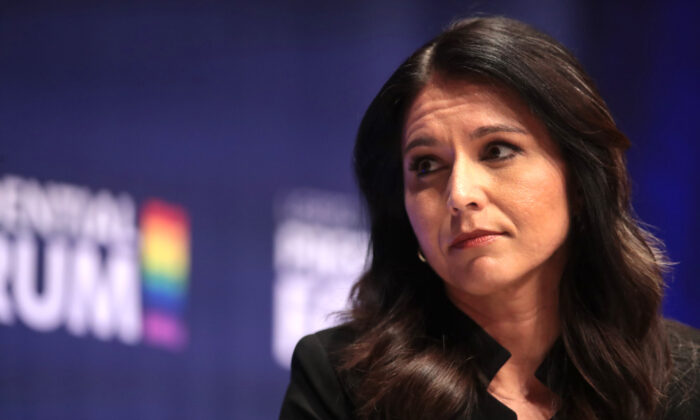 BELOW ARE PICTURED HER OPPONANTS, "THE MOB". IN THE PRIMARY DEBATES, THEY DO NOT REPRESENT A GROUP OF COMRADS, EACH STRIVING TO WIN THEIR PARTIES NOMINATION, FOR AMERICA AND THEIR CONSTITUENTS. IN FACT, WHAT MS. GABBARD HAS DISCOVERED IS A MOB OF NARCISISTS FIGHTING FOR THEIR OWN AGRANDIZEMENT, WITH NO CONCERN OVER WHOM THEY WILL TROD IN GRABBING THEIR PIECE OF POWER.
DONT WASTE A CLICK HERE, NO LINK JUST A LINGERING STINK. THE ODER OF THE CONSTITUTION DECAYING!